T2000 Full-Automatic Brick Making Machine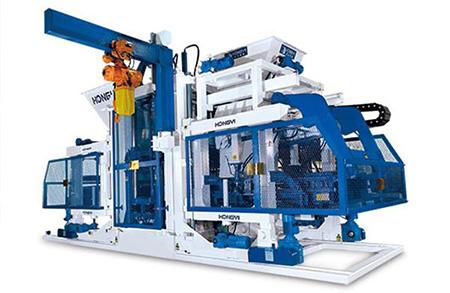 T2000 Full-Automatic Brick Making Machine
T2000 full-automatic block making machine has the capability of layered production, which is divided into main material distributing mechanism and face (surface layer) material distributing mechanism. The design of independent forming mechanism can ensure large work platform with maximum of 1400*1350 mm. It can produce building hollow block, municipal pavement brick, pc floor tile, ecological stone-imitation floor tile, road traffic stone and super–large water conservancy ecological revetment block, etc.
The configuration features of production line:
Automatic quick mould change mechanism: the standby mould is transported to the top of vibration generator using automatic transmission device. Then the mould frame and pressure head pneumatic locking device will automatically lock this mould and complete the quick mould change.
Automatic color mixing mechanism: materials of different colors are transported into the silo, and the color mixing device can mix materials with different colors to produce colorful bricks. 3. Pneumatic material scraping and flattening mechanism: it can make the material surface more even and can improve the quality of product surface.
Technical Parameters:
| | | | |
| --- | --- | --- | --- |
| Overall dimension | 7510×2670×4200mm | Vibration method | Synchronous mode of table & mould |
| Pallet size | 1400×1150×45(Wooden) /14(Steel) | Vibration frequency | 50-70hz |
| Working area | 1300×1100mm | Machine Power | 80.4kW |
| Machine weight | 30000kg | Cycle time | 15s-25s depending on the product size |
Production Capacity:
Specification of products (mm)
Number of blocks per pallet
Pieces/ hour
Pieces/8 hours
Pieces/300 day(two shifts)
Block
400×200×200
390×190×190
15
3,600
28,800
17,280,000
Hollow Brick
240×115×90
40
9,600
76,800
46,080,000
Paving Brick
225×112.5×60
40
9,600
76,800
46,080,000
Floor Brick
200×100×60
54
7,776
103,680
62,208,000
Standard Brick
240×115×53
80
19,200
153,600
92,160,000