Split Type Vertical EPS Light Weight Wall Panel Production Line
Split Type Vertical EPS Light Weight Wall Panel Production Line
The compound insulated concrete wall panel production line adopts sub and mother mould for automatic molding, curing and circulating production. It can produce composite lightweight insulated wall panel from EPS particles, XPS particles, ceramsite, modified perlite and some other light materials.
This production line consists of automatic batching plant, material metering and transporting equipment, continuous mixing station and material feeding system, sub and mother mould cart, ferry trolley, tumbler, mould stripping machine etc.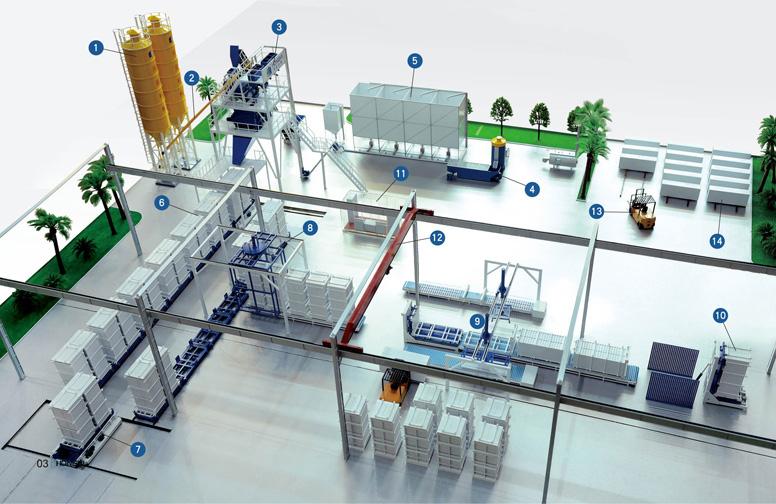 Supporting equipment:
Cement silo
Screw conveyor
Mixing system
Mixing system
EPS silo
Mould vehicle
Ferry trolley
Rotating machine
Mould stripping system
Automatic pallet tumbler
Control system
Vehicle
Forklift
Finished product stacking yard
Because of the separated sub mould and mother mould design and the mother mould is on the production line, when the sub mould is gathered in the curing chamber, the mother mould can continuously flow along the line, carrying the other sub mould. So, the production site and scale will not be limited because of on line curing. Thus it can provide larger productivity with limited production site.
Technical parameters:
Finished wall panel dimension
3000 / 2440 × 610 × 75/90/100/120/150 / 180mm
Wall panel yield of different thickness
75mm
40 pieces
90mm
36 pieces
100mm
32 pieces
120mm
28 pieces
150mm
24 pieces
Dimension
3350 × 1640 × 2920mm
Weight
4.2T
Configuration:
This compound insulated concrete wall panel production line is equipped with the following devices:

Vertical mould (vertical split casting);
Sub and mother mould which is also called sub and mother mould cart. It consists of vehicle and die set;
One sub and mother mould vehicle consists of 2 sub and mother mould and vehicle;
Automatic mould tumbler;
Specific mould stripping machine.