T1600 Full-Automatic Brick Making Machine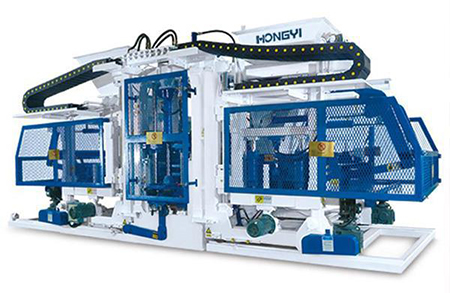 T1600 Full-Automatic Brick Making Machine
Features of T1600 full-automatic brick making machine
The work platform of T1600 brick making machine has good adaptability and can be divided into different stacking specifications according to various production arrangements.
Automatic moving platform: the main and face material press machine are respectively independent on a solid frame and equipped with individual forward mechanism which can realize the automatic moving and closing.
Automatic electric platform adjustment mechanism: this mechanism can adjust according to different product height and the adjustment is convenient and fast.
Horizontal forced material feeding mechanism: this mechanism can feed materials into the mould cavity more evenly and quickly and leave the surface flat.
Pneumatic cutting device: the main and face material feeding is pneumatically cut to ensure better product quality.
By replacing moulds, products of different specifications can be produced within the effective work range.
Technical Parameters:
| | | | |
| --- | --- | --- | --- |
| Overall dimension | 6510×2670×3400mm | Vibration method | Synchronous mode of table & mould |
| Pallet size | 1400×750×45mm (Wooden) /14mm (Steel) | Vibration frequency | 50-70hz |
| Working area | 1250×700mm | Machine Power | 71.7KW |
| Machine weight | 18500kg | Cycle time | 15s-25s Depending on the product size |
Production Capacity:
Specification of products (mm)
Number of blocks per pallet
Pieces/ hour
Pieces/8 hours
Pieces/300 day(two shifts)
Block
400×200×200
390×190×190
9
2,160
17,280
10,368,000
Hollow Brick
240×115×90
25
6,000
48,000
28,800,000
Paving Brick
225×112.5×60
25
6,000
48,000
28,800,000
Floor Brick
200×100×60
36
8,640
69,120
41,472,000
Standard Brick
240×115×53
50
12,000
96,000
57,600,000