Vertical EPS Light Wall Panel Production Line
Vertical EPS Light Wall Panel Production Line
The vertical insulated concrete wall panel production line is an enclosed production line adopting automatic batching system, continuous mixing technology, automatic mould vehicle movement, mould tumbler and automatic mould stripping, digital management system and some other technologies to produce products with complete appearance and high precision.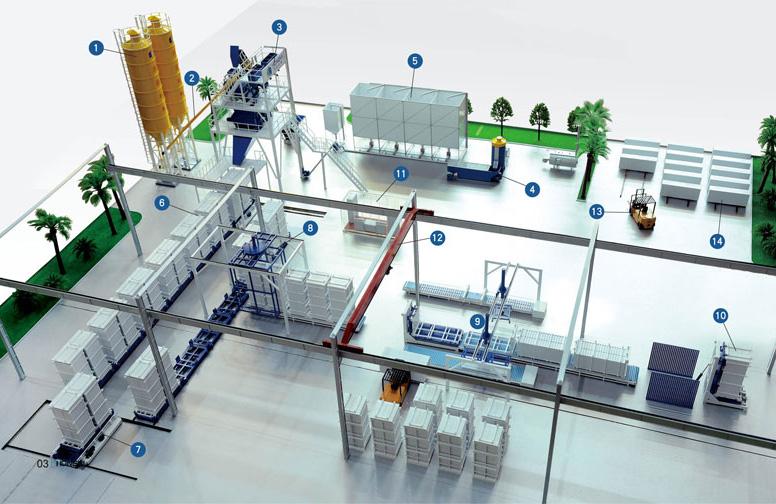 Supporting equipment:
Cement silo
Screw conveyor
Scale
Batching plant
Mixings system
material discharging hopper
EPS Pre-expander
EPS silo
Aggregate measuring bunker
Controlling room
Ferry trolley
Mould car
Calcium silicate panel inserting platform
Demoulding travelling crane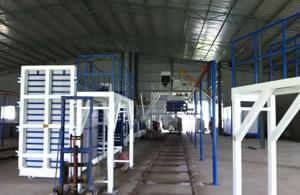 Features:
The vertical insulated concrete wall panel production line has the following features:
This production line needs smaller floor area than other lines during production.
The injection process can rapidly fill the die cavity with material. Then the material can be easily tamped without hollowing, thus realizing high productivity.
The yield can be increased just by adding the number of mould.
Model and parameters:
| | | | | | |
| --- | --- | --- | --- | --- | --- |
| Specification | Thickness(mm) | Length(mm) | Width(mm) | Approx. weight(kg/m2) | Duration of fire resistance(h) |
| 75 series | 75 | 3000/2440 | 610 | 50±5 | 2 |
| Specification | Thickness(mm) | Length(mm) | Width(mm) | Approx. weight(kg/m2) | Duration of fire resistance(h) |
| 90 series | 90 | 3000/2440 | 610 | 55±5 | 4 |
| Specification | Thickness(mm) | Length(mm) | Width(mm) | Approx. weight(kg/m2) | Duration of fire resistance(h) |
| 120 series | 120 | 3000/2440 | 610 | 67±5 | 5 |
| Specification | Thickness(mm) | Length(mm) | Width(mm) | Approx. weight(kg/m2) | Duration of fire resistance(h) |
| 150 series | 150 | 3000/2440 | 610 | 90±5 | 5 |
Technical parameters of vertical insulated concrete wall panel production line:
Finished wall panel dimension
3000/2440×610×75/90/100/120/150/180mm
Wall panel yield of different thickness
75mm
46 pieces
90mm
40 pieces
100mm
36 pieces
120mm
32 pieces
150mm
26 pieces
Dimension
3560×1560×2865mm
Weight
3.1T
Technical performance index:
Item
National standard
Detected index
60mm
90mm
120mm
60mm
90mm
120mm
Impact resistance/times
≥5
≥5
≥5
≥8
≥10
≥15
Bending breaking load/dead weight multiples
≥1.5
≥1.5
≥1.5
≥3
≥4
≥5
Compressive strength
≥3.5
≥3.5
≥3.5
≥5
≥5
≥5
Softening coefficient
≥0.80
≥0.80
≥0.80
≥1
≥1
≥1
Areal densitykg/m2
≤70
≤90
≤110
≤55
≤70
≤85
Moisture contenta/%
≤12/10/8
≤10/9/7
Drying shrinkage/mm/m
≤0.6
≤0.6
≤0.6
≤0.45
≤0.5
≤0.5
Lifting capability/N
≥1000
≥1000
≥1000
≥1200
≥1300
≥1300
Noise insulation volume/dB
≥30
≥35
≥40
≥35
≥40
≥45
Duration of fire resistance/h
≥1
≥1
≥1
≥1.5
≥3
≥4
Heat transfer coefficientb/w/m.k
≤2
≤1.5
Specific radioactivity limitation (solid panel)
≤1
≤1
≤1
≤1
≤1
≤1
Ira internal exposure index/Iraexternal exposure index
≤1
≤1
≤1
≤1
≤1
≤1
Customer examples of the vertical insulated concrete wall panel production line: