Curing chamber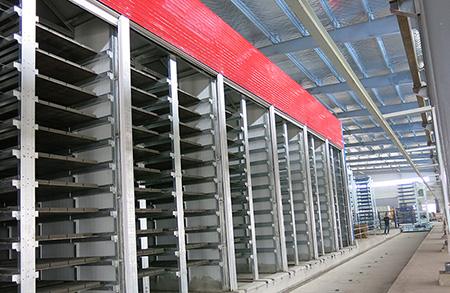 To cure the products we offers an innovative open-plan concept: The complete curing chamber as well as elevator, finger car and lowerator will be installed in a coherent climate area. The ventilation system can optimize the curing process by creating uniform climate conditions in the curing chamber.
It consists of horizontally arranged air-circulating fans in a separate air shaft, vertically arranged exhaust fans and diagonally arranged humidity and temperature sensors. By means of the sensors the circulated air is monitored, the circulating air and exhaust air fans are controlled accordingly.
Goals of regulation of the temperature and humidity in the curing chamber are the avoidance of color differences for uniform products, the realization of a faster curing and ultimately a more effective use of cement and color.